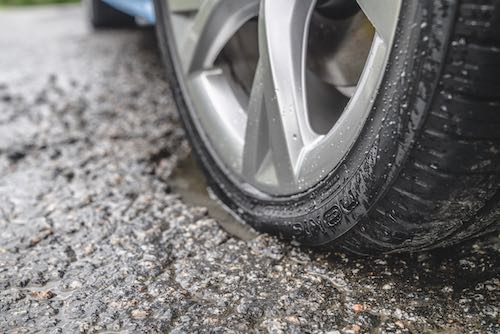 All-weather tires allow for excellent traction in all road conditions. All-weather tires with their progressive tread pattern are made to drive on all road conditions in all kinds of weather, and they, therefore, hold the "Three Peak Mountain Snowflake" emblem, the same emblem held by winter tires. This signifies that the all-weather tires have passed the same performance criteria on snow and ice as winter and snow tires. With the all-weather tires having the best of both worlds, they can function in all seasons and not just winter, and the additional grip and traction needed for winter use allow them to have excellent traction on all road surfaces and in all weather conditions. This is a great advantage even when driving on rough terrain or even in some off-road situations. Note that winter tires are still the best option for consistent, severe snow and ice throughout the winter.
Tires like the Nokian Tyres One all-weather tires even offer the "Aramid Strong Sidewalls," making these tires virtually puncture-proof, so there are no worries when driving on rough terrain. With all-weather tires, you also have the advantage of not changing into winter tires in the winter, with both the rubber compounds and the tread pattern designed to handle all kinds of road conditions. The rubber compound is formulated to stay both firm and flexible to handle a wide temperature range throughout the year. Both all-season tires and all-weather tires are made up to handle warmer temperatures, but only the all-weather tires perform well in temperatures below 45 degrees Fahrenheit.
The Nokian Tyres One is also offered for CUVs and SUVs with the same pothole protection; this allows owners of SUVs peace of mind when driving off-road. An additional benefit with all-weather tires is the flexibility to travel in between regions with different weather conditions. It also allows traveling up to ski resorts without worrying about grip and traction. There are many regions in the United States with severe winters weather with rapidly changing weather conditions where all-weather tires come in handy. The all-weather tires are the most flexible of tires as they really are made to handle all conditions, so no matter what the forecast, you are set to go. With the all-weather tires having passed the same criteria as snow tires and therefore holding the same severe snow service rating. If you own an SUV, you have the advantage that the 4-wheel drive allows for better traction, but this is only for when you accelerate and not when braking. When braking, the SUV is actually disadvantaged as it is a much heavier vehicle.
The all-weather tires have great traction allowing them to function well on all road and weather conditions. It is also a big plus the fact that there is no need to change over into winter tires; the all-weather tires are ideal in areas with severe weather or rapidly changing weather. The all-weather tires also eliminate the need to change out of winter tires in the spring as well as into winter tires in the winter.
For more information regarding winter or all-weather tires, visit: https://www.nokiantires.com/